More and more customers want to order products online. In recent years, it has therefore become increasingly important that companies who want to sell their own products not only have a stationary trade, but also an online shop. Since it is often time and expensive to set up, many companies hesitate to create an online shop. The website builder from IONOS wants to change that – we tested "MyWebsite Shop".
What is "MyWebsite Shop" from IONOS?
"MyWebsite Shop" from IONOS is a website construction kit that you can use to create your own website including an online shop. This means that you get different help and functions to create your online shop.
So you don't need any prior knowledge or programming skills, but have the opportunity to work your way through the website builder and gradually move elements around, create designs and ultimately upload products to your shop.
With IONOS you can choose from different tariffs. All tariffs include an SSL-secured domain for a whole year and a professional e-mail address, the most important payment and shipping methods such as credit card, PayPal and DHL are included and the items can be synchronized automatically and also via social media sell media.
The tariffs differ mainly in the number of possible products. For example, the smallest tariff allows for 500 articles, whereas the largest tariff allows an unlimited number of articles. The professional tariff is particularly suitable for large companies with numerous different products, since a multilingual online shop can also be set up here and sales can also take place on Amazon and Ebay.
What functions can I find in "MyWebsite Shop" from IONOS?
The first step is to create your main website at IONOS "MyWebsite". Here you can add the complete design, the subpages of your website, numerous elements such as images, maps, buttons, tables or opening hours and edit the content. The drag-and-drop editing feature pays off, especially for beginners, as it makes it easy to determine where to add what.
You then have the option of designing your online shop in the backend. Here you define your main menu, add products, decide on marketing measures such as Google Ads or Facebook ads and configure all important information such as payment methods or shipping options.
Personalization is a special feature. Here you have the opportunity to set individual rules for your website visitors. For example, only new visitors are shown a company video or only returning visitors are presented with special products from your online shop.
Create your website now with the IONOS website builder
IONOS website construction kit put to the test
Before you start designing your online shop, the first step is to create your website. We will show you step-by-step how this works in our detailed test report. Right from the start, we will show you exactly how to create your website and what different functions are available to you.
We tested the IONOS website kit ourselves and created our own online shop. Below we show how this works.
Create online store
After you have created your website, it is then time to actually create your online shop. As an overview, the website builder shows you your current status and which tasks you should still complete before publication.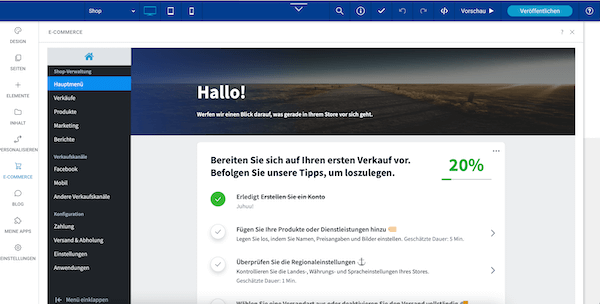 add products
You then immediately have the opportunity to add your products to the online shop. Here you can select images for each product, determine the price, add a designation, item number, weight and description, and determine properties.
In the "Execution alternatives" tab, you also have the option of creating different variants of each of your products. This works quickly and easily with the IONOS website construction kit. In the first step, define a new design variant, for example if you want to offer a different color. Then add the respective choices and enter the price.
Finally, all you have to do is determine how your customers should make their selection in the future. You can choose from drop-down lists, radio buttons, sizes, checkboxes, text boxes, body text and calendars. You can also upload media yourself here.
In order to be able to imagine directly what the items you have created look like in the online shop, you can always display them using the "Item preview".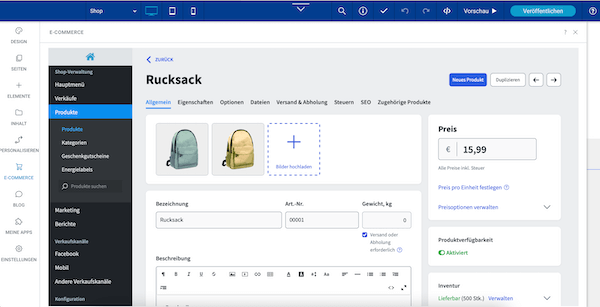 Inventory and Categories
You also have the option of specifying the inventory for each of your products. And if this falls below a certain number, you can be notified directly.
If you don't just want to sell normal products, but also digital products in your online shop, you can do that with the IONOS website builder. The prerequisite for this is that you have chosen one of the higher tariffs. To post the digital products, all you have to do is upload the file to be sold in the "Files" tab.
You can also make it easier for your customers to search for your products in the online shop by assigning your products to different categories. There is a preset category, this contains products that are recommended to your customers when they open the online shop.
sell products
When you have added all products, you still take care of the basic functions of your online shop. For example your sales channels, payment methods and your shipping options. Settings also covers billing, taxes, and legal settings. You should definitely take care of this before you publish your online shop.
In the menu item "Shipping & Pickup" you have the option to edit your shipping settings. This is where you set shipping methods manually or easily integrate companies such as DHL. You can either offer shipping at a fixed price, link it to weight or subtotal, or set free shipping under certain conditions.
Process incoming orders
As soon as your online shop is live and orders are received, you will find them in the shop administration in the Sales area. Here you have the option of filtering your orders according to various criteria such as the date of purchase or the payment status. Or you are looking for specific orders by entering the name or the order number.
You can use different buttons to initiate different actions. For example, easily mark an order as shipped and add a matching tracking number so your customers can track the delivery.
To open the detailed view of the orders, all you have to do is click on the right arrow. Here you can see everything you need to know about ordering, payment and shipping. You can also see whether your customers have subscribed to your newsletter, for example, or have agreed to other marketing measures.
Experience: This is how the online shop creation with IONOS went
The website construction kit with an integrated online shop from IONOS is particularly convincing due to the possibility of combining both things: creating a comprehensive website and a suitable online shop. The creation is possible without any prior technical knowledge. Within a very short time you can publish a website that corresponds exactly to your own ideas.
With different plans to choose from, each business can choose exactly what they need and what they don't. Due to the transparent prices there is no risk of hidden costs and companies can plan with the exact costs.
FAQs: Important questions and answers about the IONOS website kit
In the following, we answer three important questions about using the IONOS website builder.
Can you export the online shop from the IONOS kit?
The export of your online shop that you create with the IONOS website builder is currently not possible.
Can you connect the IONOS Website Builder to an external domain?
All plans come with a free domain. However, if you prefer to use a different domain, you can easily connect it to your website builder. It is important that the domain is in the same contract.
How long is the cancellation period for the IONOS Website Builder and how long will I get my money back?
With the IONOS Website Builder you have the option to revoke your consent within 30 days. During this period you will also get your money back in full.
Create an online shop quickly and intuitively with the IONOS website builder
The test shows: Even without programming knowledge, it is possible to create your own online shop in a very short time and without any effort using the IONOS website construction kit. There are special design templates to choose from, many extensive functions and different setting options to design the online shop professionally right from the start.
Create your website now with the IONOS website builder
---
This article is part of our content hub for web hosting, cloud services and domains and is sponsored by IONOS.
Source: https://www.basicthinking.de/blog/2022/08/30/online-shop-erstellen-ionos-test/