Even if an electrical installation belongs in the hands of experts, the cooperation of builders is required. After all, property owners know best how individual rooms should be designed.
The purpose of a room and the furniture in it are decisive for the optimal electrical installation.
Floor plans and on-site inspections
An important basis for optimal planning of the electrical installation is a copy of the floor plan of the respective object. Builders mark the areas on this floor plan in which sockets, light switches, radio, television, hi-fi and EDP connections or lights are to be installed.
If there is already a standard plan for the electrical installation, it can be expanded according to your own wishes.
In addition to looking at the floor plan, it also makes sense to take a close look at the rooms again and mark all the preferred areas for connections.
Homeowners should include connections for music systems, televisions, computers, floor lamps, or other electronic devices in this inspection from the start.
First tip: Better more than too few connections
Experience has shown that far too few sockets are planned for the standard equipment of a house or apartment. There really isn't too many sockets. In return, the annoyance is great if there is a lack of sockets afterwards.
Based on standard equipment, home builders should plan for the following number of connections:
Kitchen: 10 – 15 connections, for example for refrigerator, microwave, dishwasher, oven and work sockets
Living room from 20 m²: 20 – 24 connections, for example for lamps, music systems, televisions and other electronic devices
Nursery: 8-11 ports
Bad: 4 connections. Two to the left and right of the bathroom mirror and two more at floor level
utility room: 8 connections, for example for dryers, washing machines and multiple work areas
Corridor or hallway: 3-5 connections, for example for vacuum cleaners or for charging electronic devices such as smartphones
Workspace: 8 – 10 connections, for example for technical devices such as printers, computers, scanners or telephones
Outside: 8 connections, for example for electrical garden equipment such as lawnmowers, refrigerators, radios or TV sets
For garages, basements or hobby workshops, devices with a higher voltage are often used. In this case, a so-called three-phase AC socket for 400 volts of power current is a good choice.
A connection with a higher voltage is also particularly suitable for a sauna.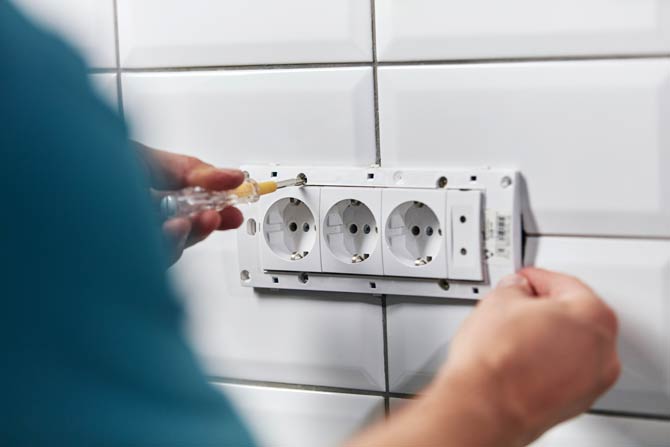 Second tip: Optimal planning of the circuits
If you want to save money, you should try to find cheap electricians nearby. Experienced specialists generally know that safe electrical distribution must be divided into at least four fuse rows.
Separate living areas such as bedrooms, living rooms, hallways, bathrooms or kitchens should each have their own circuit with a circuit breaker. It is just as important to separate light and socket circuits from each other.
In general, high-performance household appliances such as washing machines or dishwashers each require their own circuit.
A residual current circuit breaker is also used for overall protection. Experts recommend a special safety switch for the bathroom.
Third tip: Play it safe – with empty pipes
Laying electrical installation pipes under plaster is a good choice for renovations or new buildings. These empty pipes offer tenants or property owners the opportunity to expand the electrical installation as required.
Additionally laid pipes are well suited to subsequently lay a technical basis for connections for switches, sockets, light sources, alarm systems, video surveillance or intercoms.
The empty pipes ensure that when the electrical installation is adjusted, the walls have to be completely broken up again.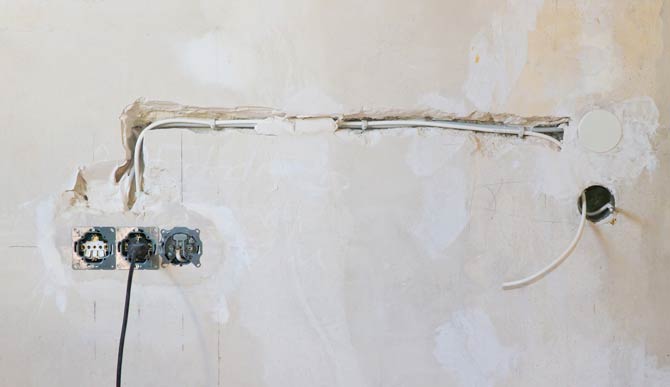 Fourth tip: Think of smoke detectors
Smoke detectors are lifesavers, saving people from suffocation or burns while they are sleeping, for example. A few seconds are enough for death to occur as a result of smoke inhalation. This scenario is avoided by smoke detectors that alarm in good time.
The smoke detector requirement for private living spaces applies nationwide in this country.
There are detailed regulations, for example, in the state building regulations of the individual federal states.
Fifth tip: Increased security with overvoltage and lightning protection
Experience shows that many people grossly overestimate the protective effect of tall buildings. It is a myth that lightning always strikes the highest point.
The only effective protection against lightning damage is a professionally installed lightning protection system. Lightning strikes within a maximum radius of two kilometers reach other houses via cables and cause surge damage.
In order to prevent damage to sensitive devices such as televisions or computers, multi-stage lightning protection systems consisting of lightning and overvoltage protection offer a high level of security.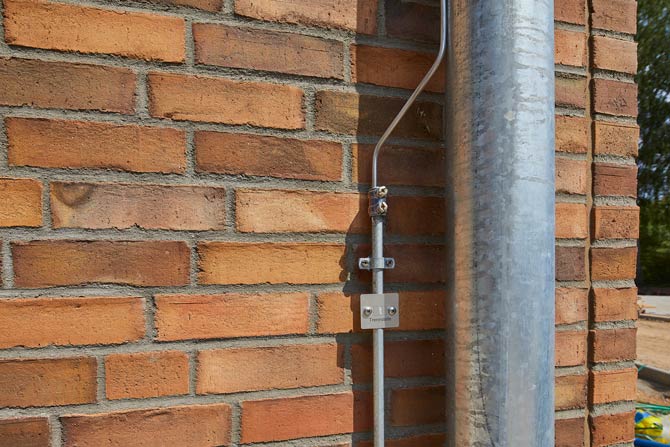 Sixth tip: Connection of USB charging sockets
Permanently installed charging stations for mobile devices are very popular. USB charging sockets or a ramrod attached to the wall fit seamlessly into most room concepts.
In the meantime, even USB charging sockets are available, into which users can plug their own smartphone charging cable directly.
Another option are built-in charging docks, which are optimally adapted to the needs of mobile phone users.
Seventh tip: electrical installation for the outdoor area
Electricity in the garden increases comfort, provides light and at the same time makes work easier. For this reason, it makes sense to include this part of the electrical system in the planning right from the start. Paths and terraces have to be illuminated, pond pumps activated or electronic devices such as lawn mowers connected outside. For these and many other purposes, the external electrics are absolutely necessary. A circuit with a motion detector is recommended for all properties for which floor or wall lights make sense.
A control switch on the patio door is also advantageous for patio lighting.
Incidentally, underground cables are particularly suitable for connecting electrical installations outdoors. In order to optimally determine the route of the underground cable, property owners should be aware of the areas in which power connections or lamps are required. If you lay empty pipes in the garden, you can later pull in additional cables if necessary.
Good electrical installation – it's all a question of planning
Think about tomorrow today: This resolution saves real estate owners many hours of work.
Good planning of the electrical installation is an important basis for benefiting from the advantages of a well-designed cable system for years to come.
Source: https://www.blog.de/tipps-optimale-elektroinstallation/