The technical equipment of the Apple Watch has everything so that you can set the watch perfectly to suit your life. However, individuality can not only be lived by wearing your Apple Watch that is tailored to you, but can also be expressed through great, individual Apple Watch bracelets. For example with the fascinatingly different bracelets from PITAKA, which turn out to be real eye-catchers, and not just upon closer inspection.
Apple Watch: The faithful companion in everyday life
With the Apple Watch you can master everyday life. Not only do you always have an eye on time, but also many other things that determine and make up your life. It is a faithful companion on your wrist and contributes to your external appearance. If you are still looking for an Apple Watch strap that fits seamlessly into your style and suits you, then take a look at the straps from PITAKA.
Pitaka combines technology with art, culture and craftsmanship. At PITAKA, the focus is on technologically high-quality materials and woven structures. This is how accessories like the Apple Watch bracelets are created, which are something very special and at the same time created to meet the challenges of everyday life with you.
The PITAKA bracelets presented
To understand what sets the PITAKA Apple Watch straps apart from others, let's take a look at the materials underlying the models.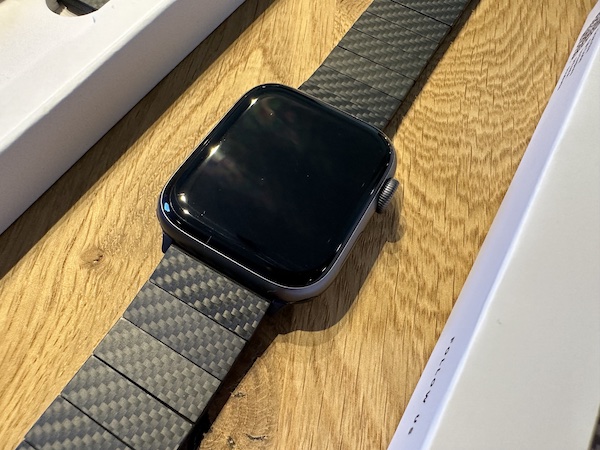 PITAKA produces a selection of bracelets that are as subtle as they are elegant, each of which is incredibly light and therefore comfortable to wear. The length-adjustable bracelets are closed with a patented, secure magnetic clasp.
Apple Watch straps made from carbon fiber
Carbon fiber is the main component of some PITAKA bracelets. This material is commonly used in the construction of aircraft, sports cars and technical components. It convinces by being extremely robust and at the same time light as a feather. With a bracelet made of carbon fiber, you are equipped for everyday life with your Apple Watch. And in a particularly elegant way.
Apple Watch bands made from ChromaCarbon™
ChromaCarbon is a composite lamination technology that combines carbon fiber and aramid fiber using a special resin processed at high temperatures and pressure to maintain the excellent durability and toughness of the various materials. Fusion Weaving technology allows PITALA to cover black carbon fibers with pixelated colors of aramid fibers.
PITAKA is the first company to use the ChromaCarbon™ material. Thanks to this process, more colors and patterns can be created without compromising the thinness and durability of the carbon fiber!
Stylish and robust: PITAKA bracelets for the Apple Watch
The bracelets from PITAKA fit into your style and make your Apple Watch a real eye-catcher. At the same time, you can rely on these sturdy Apple Watch bracelets to stay loyal to you. The high-quality materials used shine in terms of durability and, thanks to an artistic twist, they look incredibly good.
Now convince yourself
Competition: Win an Apple Watch band from PITAKA
PITAKA is giving away together BASIC thinking a total of five Apple Watch bands among all newsletter subscribers BASIC thinking. So all you have to do is subscribe to our newsletter by 12 p.m. on September 30, 2023 and leave us a comment under this article by then about which ribbon you would like to win.
We will draw the winner on 30. September 2023 and then notify him or her by email. We wish good luck!
Zur PITAKA Website Discover PITAKA on Amazon
---
The deadline for entries is Saturday, September 30, 2023, 12 p.m. Participation takes place under the exclusion of legal recourse. Each participant can only take part once. Only correctly completed comments will be included in the selection process. The winner will be informed via email. The right to win expires after one week if the winner cannot be identified or if the winner does not contact the organizer of the competition (BASIC thinking GmbH) within one week of the prize being announced. The data of other participants will not be passed on to third parties or used for other purposes. This article contains affiliate links.
Source: https://www.basicthinking.de/blog/2023/09/19/pitaka-apple-watch-armbaender/