A good IT infrastructure is now an important basis for companies to be able to work effectively at all. Most companies feel safe because their network servers are securely housed in corporate server rooms. However, this assumption underestimates potential dangers that exist for servers in reality.
To make matters worse, important security measures are often taken lightly and are simply not enough.
Different dangers for servers
A hardware server is a physical device that resides in a data center.
Servers are generally considered to be sensitive devices whose functionality is clearly affected by damage events.
If damage is imminent, not only a hardware failure is likely. Loss of data or revenue may also lead to restricted work.
Never underestimate natural events
Due to the steadily progressing climate change, more and more climate catastrophes are occurring, which also affect technical devices. These include strong thunderstorms, hurricanes, flash floods or storms. Avalanches and massive hail events affect technical equipment just as much as heavy rain events or floods.
These natural events can lead to either hardware failure or direct destruction. In a so-called blackout, a complete power failure extends over several hours or even days. In addition, overvoltages or a breakdown of supply lines have a negative effect on the hardware.
Other possible causes of secondary damage events are fire or fires.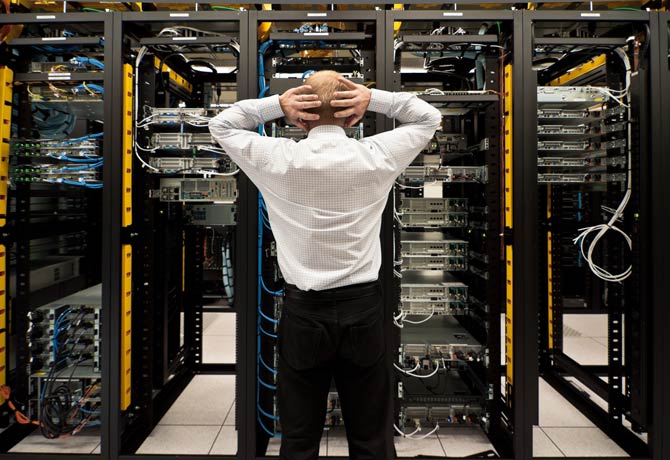 Cyber ​​crime and threats of sabotage
On a human level, our world has become increasingly insecure in recent years. A good example is a study by Bitkom, according to which a total of 88 percent of all companies in Germany have been affected by virtual attacks. Cybercrime is increasing significantly.
The damage caused by this is enormous and currently amounts to 220 billion euros annually.
Hacker attacks or DDoS attacks, which are now some of the most common sources of danger, are particularly common. In addition to constantly increasing cyber crime, targeted direct attacks or acts of sabotage by one or more people are just as risky.
These attacks are now affecting organizations of all sizes and across multiple industries. The variety of attackers ranges from radical or extremist groups to dissatisfied employees.
Accidents and other accidental damage
In addition, time and again human negligence or failure leads to hardware destruction or data loss. Cases such as the unintentional installation of malware or unintentional intrusion into server rooms or company premises occur again and again. There are many sources of danger in this area.
It is therefore particularly complicated to protect oneself comprehensively and efficiently against it.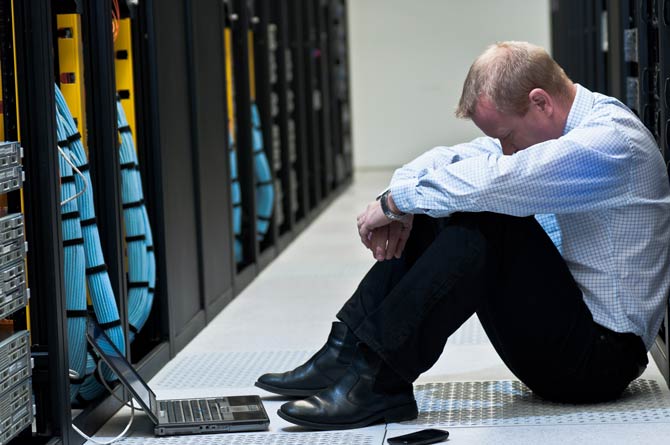 Measures to prevent hazards
Due to the diverse sources of danger, it is imperative to carry out appropriate safety measures and to reduce the risk of possible dangers to a minimum.
If a protection concept does not fulfill the hoped-for purpose, serious data losses or significant losses in sales are very likely.
Despite the extent of the damage, physical hardware destruction is only a fraction of the associated consequences.
Effective fire safety precautions
Efficient fire protection measures are useful for company buildings in order to keep personal injury and damage to property as low as possible in the event of a fire. Fire protection and fire prevention regulations that are common in Germany are very strict in this country.
In order to protect server rooms from fire or fire, these premises must meet far more than minimum requirements. Here it is important to prevent emerging fires with all your might. Therefore, efficient and individual fire protection concepts are necessary, which are developed together with specialists.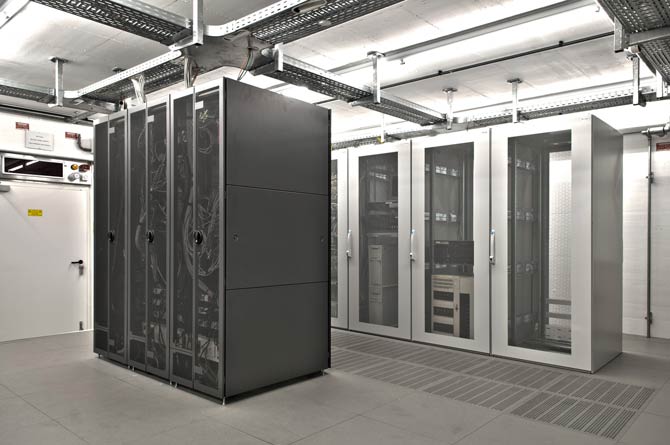 Preventive measures against power failure
Power failures are often responsible for so-called downtimes. Typical causes of power failures are lightning strikes, natural disasters or malfunctions in electrical systems.
It is therefore important to always keep an eye on the sources of danger and to protect yourself against them as effectively as possible.
An uninterruptible and powerful power supply is often an effective protective measure that protects against power failure, harmonics, frequency deviations, undervoltage and overvoltage. Depending on the respective individual risk, the use of emergency power systems also makes sense. However, a backup power system is no guarantee for an uninterrupted power supply.
Security concepts for IT security
IT security concepts require ongoing adjustments to any risks that may arise. It is therefore fundamentally important to protect yourself efficiently against software attacks or the network structure itself. This requires powerful protection that counteracts brute force attacks, among other things. Equally important is physical protection of the server room, which, for example, should be strictly monitored at all times.
Efficient access security, which is useful and a deterrent, is just as effective. Another measure is to reduce complex networks as much as possible.
Safeguards against human error
Human error and error are clear threats to servers, the network, and data integrity. Safety training helps prevent configuration errors or accidents.
An important part of the training should therefore be studying the correct behavior in the event of damage.
In this way, the risk of damage is minimized. In addition, server and network operators increase the level of security by effectively protecting server rooms from moisture, dust or temperature fluctuations.
Checking routines to ensure correct maintenance and installations are just as important as regular, efficient data backups and checks on the usability of backups.
Source: https://www.blog.de/effektiver-schutz-von-servern/