More and more people want their own big TV. Especially in times of the pandemic, large televisions promise an exciting cinema feeling in your own four walls.
A long-standing trend
As Roland Stehle from the industry association gfu confirms, the trend towards larger televisions has been going on for several years. This high demand has been further increased by the pandemic. In 2020 alone, television sales increased by 20 percent.
A total of 6.6 million television sets were sold last year.
Sales of large televisions with a screen diagonal of 55 inches were particularly striking. In this segment, growth increased by a total of 32 percent compared to 2019.
Don't skimp on size
According to an expert from the specialist magazine "Video", if you want to experience cinema pleasure in your own four walls, you should by no means save on the size of the television. Considering the source material and the viewing distance, the television format should be selected as large as possible.
Films from streaming portals or in Blu-ray quality have such a high resolution in Ultra HD or 4K that viewers can sit much closer in front of the device than with Full HD resolution. However, the devices have to have a resolution of 4K.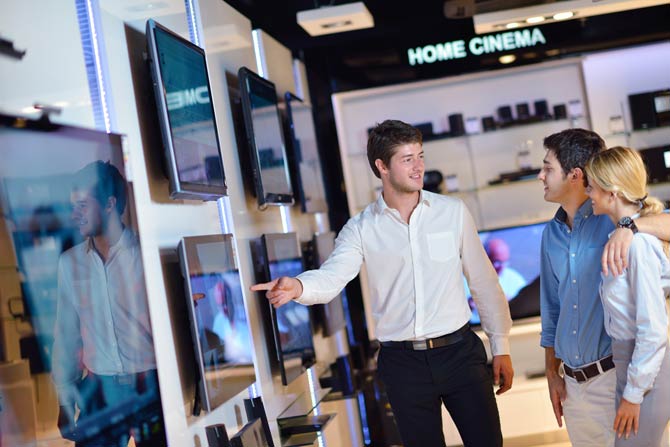 Not under 4K
So-called 4K or UHD panels are now standard. Therefore, buyers are well advised not to fall below this standard. The televisions are designed to display 3,840 pixels wide.
A large Full HD television, on the other hand, is no longer the ultimate.
The high-contrast technology HDR is now also standardized. However, with this technology there is no guarantee of the quality in which the HDR format will be broadcast.
The term "HDR" only indicates that the television sets can process certain signals. There are massive differences in the reproduction of brightness, black tones and colors. Depending on the device, the maximum brightness is between 300 and 5,000 cd/m2. With a poor-quality device, color tones do not cover completely. Color contrasts, on the other hand, are weakened.
Display Technology Guidelines
There are clear guidelines for the right display technology. OLED devices in particular offer a particularly good picture because they produce the sharpest pictures with the best black values ​​and very good contrast values. Televisions equipped with an LCD panel offer an even higher brightness value.
Nevertheless, the images do not reach the quality of OLED devices. QLED TVs are also known for their high quality. This advanced LCD technology guarantees excellent colors thanks to the optimized light source.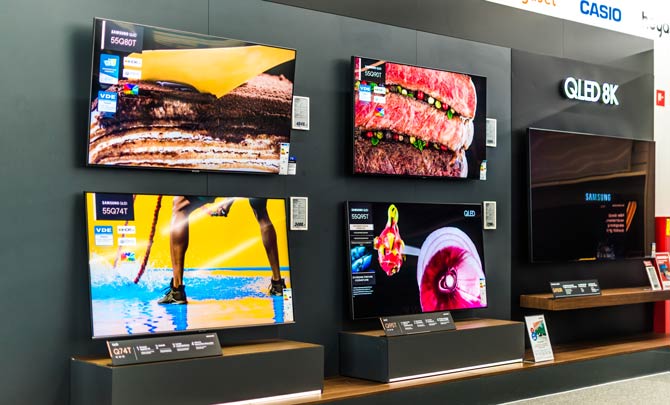 A good sound experience as A and O
Devices with good sound are certainly particularly important for fans of blockbusters.
However, as television sets are becoming flatter and flatter, it is a major challenge to integrate good bass or to adjust speakers exactly forward.
It is true that a high-quality television set already achieves good performance through digital signal processing. But for a real cinema feeling, a decent sound is essential.
Modern HDMI interfaces
So-called mid-range soundbars sound much better than TV converters. Additional wireless subwoofers are a fascinating combination of cinema experience and living room compatibility. However, if you want to experience pure cinema feeling in your own four walls, you cannot do without a complete surround system.
In order to keep all expansion options open for use, the devices should have specific connections. A good example is an upgraded HDMI interface to the 2.1 version, which includes more bandwidth and is required for many gaming applications and 8K content. Although HDMI 2.1 is not yet standard for most devices, the concept is a good investment in the future. In order to be able to fall back on reserves, a new TV set should have at least four HDMI outputs.
Filmmaker mode in TVs
In order to benefit from a genuine cinema experience, a new television set does not necessarily have to adopt the standard picture settings. Filmmaker modes are integrated into the televisions, in which the images are adjusted according to cinema specifications.
These settings have a clearly visible effect on the colors, for example.
Source: https://www.blog.de/grosse-fernseher-voll-im-trend/