As a partner and IT consultant, PROTOS Technologie GmbH accompanies and supports DB Regio Bus on its way to a climate-neutral ICT infrastructure. "We are proud that, together with our customer, we were able to create the conditions for future-proof and sustainable digitization."emphasizes Sebastian Ullrich, Managing Director of PROTOS.
DB Regio Bus, the bus division of DB Regio AG, makes a contribution to climate protection. In 2022, the Deutsche Bahn AG Group was able to reduce specific greenhouse gas emissions by more than 42 percent compared to 2006.1 The entire group should be 100 percent climate-neutral by 2040 at the latest. For DB Regio Bus, not only does the conversion to electromobility and hydrogen drives in the buses play an important role, but also the modernization of the ITC landscape.
DB Regio Bus has migrated 99 percent of the entire application landscape from regional data centers to the AWS cloud, uses native and serverless cloud services and infrastructure-as-code for automated, standardized and simplified infrastructure provision.
During the migration projects, the applications were analyzed and modernized. This has resulted in consolidation, optimized uptime and resource savings. About 50 tons of CO2 equivalents (MTCO2e – Scope 1 and Scope 2) could be saved through these measures.2 be saved.
The demand-oriented use of the entire data center infrastructure and the reduction of unnecessary computing and storage capacities have also drastically reduced the CO2 emissions of DB Regio Bus. The AWS Customer Carbon Footprint Tool is used to calculate the carbon footprint of the AWS infrastructure and to identify potential for reduction. Between May 2020 and December 2022, the ICT operation DB Regio Bus was able to save another significant contribution of approx. 114 tons of CO2 equivalents (114 MTCO2e) compared to operation in the outdated infrastructure.
Further changes to the infrastructure are continuously being implemented in order to use resources more cost- and energy-efficiently.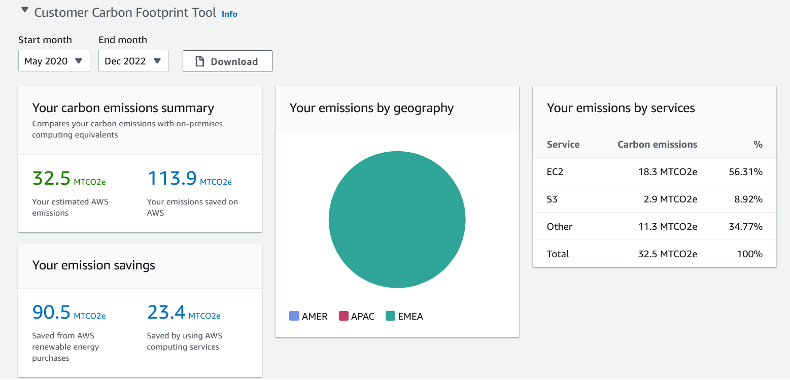 "A climate-neutral IT infrastructure is an important component of our sustainability strategy. By optimizing operating times in IT processes, we were able to save resources and improve our carbon footprint."

Andreas Kempchen, Head of ICT Operations DB Regio Bus
By consistently relocating the infrastructure to the AWS cloud, the overall balance of CO2 equivalents can be neutralized in the next few years, since AWS plans to operate exclusively from renewable energies as early as 2025. With the comprehensive modernization of its IT, DB Regio Bus has proven that sustainability and cost-effectiveness are by no means mutually exclusive. On the contrary: a modern, climate-neutral IT infrastructure can ensure the company's long-term success and make an important contribution to climate protection.
[1] https://nachhaltigkeit.deutschebahn.com/de/gruene-transformation/klimaschutz
[2] GHG Protocol Corporate Standard (Scope 1 – direct emissions, Scope 2 – indirect emissions, e.g. via electricity)
Source: https://www.protos-technologie.de/2023/05/09/dbregiobus_moderneitinfrastruktur_awscloud-optimiertebetriebszeiten-sparen-uber-114-tonnen-co2e-ein/